Connect SME: Cross-border collaboration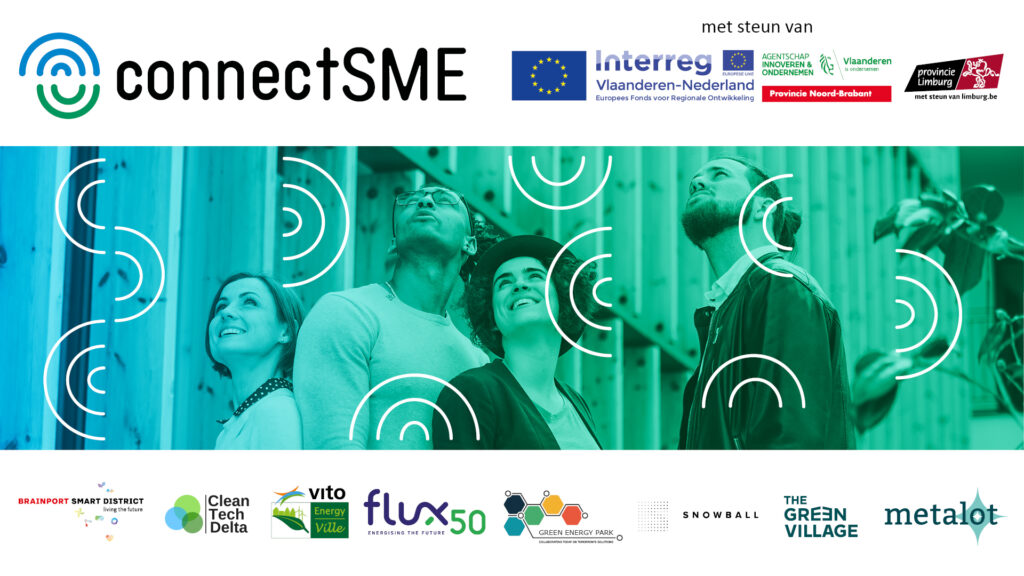 What does ConnectSME stand for?
Brainport Smart District is one of the six testing grounds in the Netherlands and Flanders that participate in ConnectSME. The aim is to stimulate innovation trajectories of SMEs and SMEs to bring their innovations to the market faster and thus maximize CO2 reductions.
In order to achieve the European climate targets, it is important that sustainable technological innovations find their way to the market more quickly. For many SMEs and SMEs developing sustainable technologies in Flanders and the Netherlands, it is difficult to bridge the so-called 'Vallei of Death'. A significant amount of capital is often required to bring the innovative product to commercial scale, while potential customers do not yet dare to invest in the innovative products. In addition, it is important to select the right technologies that will maximize CO2 reductions in the long term.
How does it work?
With a consortium of six living labs and two clusters, the ConnectSME project facilitates demonstration projects for sustainable technological innovations in Flanders and the South of the Netherlands. The living labs provide a development and demonstration environment for innovative technologies, according to a user-oriented, open innovation ecosystem.
Selected SMEs and SMEs receive vouchers with which they receive advice and the opportunity to demonstrate and develop their innovation in this physical test environment. By removing barriers to cross-border cooperation, ConnectSME wants to improve the market introduction opportunities of innovative technologies in the border region of Flanders-Netherlands.
Who can participate?
The ConnectSME project focuses on Flemish and Dutch SMEs and SMEs.
Do you recognize yourself in the points below?
Then be sure to register:
You are active in the border region. More information at www.grensregio.eu
You develop technology that promotes CO2 reduction and climate objectives
With your technology you focus on energy or is related to it
You have already developed your innovation and are looking for a way to scale it
Your innovation is new in the border region
Read more?
Download the flyer about ConnectSME with more information or contact Martijn de Kort. 
Thorsite (VITO), Snowball en Green Energy Park in Vlaanderen
The Green Village (TU Delft), Future Energy Lab Metalot (TU Eindhoven) en Brainport Smart District in Nederland