Construction of innovative and affordable home in BSD has started
Housing corporation Woonbedrijf, Team CASA and the Eindhoven construction company Hurks have started the construction of CASA 1.0. These innovative and affordable homes are the first homes to be built in the Brainport Smart District. CASA 1.0 consists of a total of 3 affordable social rental homes: an apartment with 1 bedroom and 2 studios. The houses are very sustainable, for which new innovations and technologies are used that were devised by the TU / e students of Team CASA. The homes will be ready in the spring of 2021.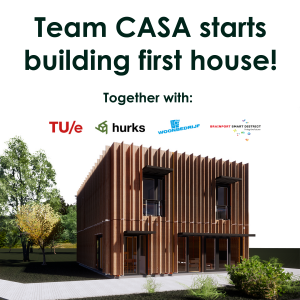 CASA stands for Comfortable, Affordable, Sustainable Alternative. The goal is to build a comfortable, affordable and sustainable alternative to social rental housing. This idea came from Antoine Post, a Physics student at TU / e and manager of Team CASA. He heard a lot about sustainable developments, but did not see this reflected in average homes. He had ideas about designing a sustainable home and found other students who were happy to join. For example, they designed CASA 1.0 and together with Hurks brought the plans to a ready-to-implement design.
First home in BSD
CASA 1.0 is the first home in Brainport Smart District. In BSD, the latest insights and techniques in the field of participation, health, data, mobility, energy and circularity are used to create a sustainable and beautiful living environment. The development of BSD is a co-creation process between residents, professionals and other stakeholders. "With the realization of CASA 1.0. a number of BSD's ambitions come together. Government, education, business and residents have developed the house together. This house shows that BSD is becoming a neighborhood for everyone, "said project alderman Cathalijne Dortmans, who is also involved as chairman of the BSD foundation.
More information about this project is available on the Team CASA website